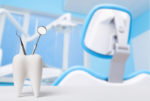 Welcome to Taskey Dental Care! We are committed to offering gentle, quality dentistry in a relaxed friendly environment. We want you to feel like family.
Our team of highly skilled and educated professionals utlizing the latest technology will provide you with well planned preventative, restorative and cosmetic dentistry.
We strive to offer a unique experience that is tailored to your individual needs. As your dental health partner, we want you to feel confident that your healthiest smile is our goal.
We welcome patients of all ages to our Downtown Edmonton clinic and want to serve you and your family giving you the best possilbe service and results.