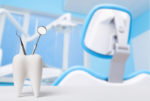 Crowns usually require two appointments to complete this very common procedure. However, using computer technology we can achieve this in one appointment.
At Taskey Dental Care we will prepare your affected tooth or teeth and use our 3D camera to capture a digital image.
Using computer design software your new crown is fabricated using a milling machine.
Finally the crown or crowns are bonded in place.
Trust us to provide you with a durable and aesthetic solution in a timely and effective manner.